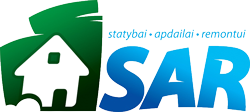 JSC "Construction finishing equipment" was founded in 1994 in Vilnius. Since the founding date of the company specilizuojasi wall building interior materials t. Y. Lithuanian smoothing and soil production.
The main aim of the company's high-quality products. During all the years we never did not seek to save the expense of quality, and thus earned the trust of customers. Our products do not harm human health, are environmentally friendly, meet all Stringent environmental requirements, so it is suitable for the use of special-purpose objects: to say schools, hospitals and so on. All products are certified by SPSC (Building Product Certification Center) and checked UAB Alzida "satybinių materials and product testing laboratory.
JSC "Construction finishing equipment" was the first in Lithuania to produce deep soil. Universal deep primer A-10 for indoor and outdoor use, indoor use can be diluted with water to a ratio of 1: 1. In this capacity, the soil, many Lithuanian artists and organizations.
At present, we produce five types of Lithuanian filler: polymer-latex with chalk filler, latex glaze with chalk filler, acrylic-latex with marble filler, filler marble filler SAR-MR2, glaze exterior and wet domestic environments SAR-FASADAS all kinds of cement, except for SARs -FASADAS easily spreads, prepared surfaces do not require additional processing, leveled surfaces are especially easy sanding. Leveled surfaces for painting all the water-dispersion, oil paint and wallpapering.
With companies create long-term contract with deferred payment. The conclusion of the contract goods are delivered free of charge. Our company itself is engaged in logistics, so the items are delivered quickly, customer-friendly way, as quickly resolved issues at stake.
This site uses cookies. They can identify logged-in users, collect statistics, and help to improve browsing experience for each visitor individually.